Ballett am Rhein
Ballet School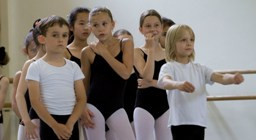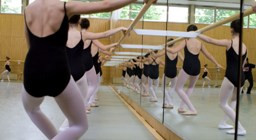 "When dancing I feel free"
The ballet school of Ballett am Rhein Düsseldorf Duisburg under Martin Schläpfer offers training in three classes and an advanced class to children and young people who enjoy movement and show talent for dancing. Classic academic ballet, modern dance technique and character dance form an ideal mix to demonstrate the wide variety of dance forms on the one hand, and on the other to administer training of an equally wide variety to body and mind and to kindle enthusiasm for dance in children and young people. Though the school itself does not take pupils to performance level, it is an excellent all-round basis for acceptance into one of the famous ballet or dance academies, whether classical or modern. All teaching takes place in the rehearsal rooms of Ballett am Rhein.
Class A
7–9 years (exceptions can be made)
Class B
10–12 years
Class C
13–16 years
Pedagogues
Ballet and character dance:
Eva Zamazalová
Ballet:
Young Soon Hue, Remus Şucheană
Modern Dance techniques:
N.N.
Advanced Class:
Martin Schläpfer, Carolina Francisco Sorg, Victoria Wohlleber
Admission 2013/14
Admission to the 2013/14 school year is now closed, exceptions may still be discussed.
Ballett am Rhein
Balletthaus
Niederkasseler Kirchweg 36
40547 Düsseldorf
Tel.: +49(0)211./89 25 340
Fax: +49(0)211.89 25 343
E-Mail:
ballettschule@ballettamrhein.de
www.ballettamrhein.de