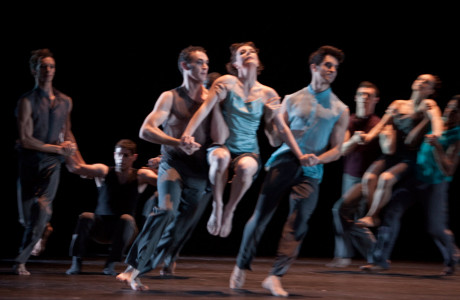 Duration: abt. 2 ½ hours, two intervals
Concerto Barocco
George Balanchine
"The only possible preparation for this ballet is to know its music, for 'Concerto Barocco" has no contents except the score it is danced to, and beyond the dancers who dance it" –thus the pronouncement of George Balanchine himself on his ballet to Johann Sebastian Bach's concerto for two violins in D minor, BWV 1043, which was first performed in 1941 by the American Ballet Caravan in Rio de Janeiro. A choreography which is the finest manifestation before our eyes of what goes to make the neoclassical style, to this day as incomparable as it was then revolutionary. Making musical structures visible in space, mathematical precision of formations which do not preclude human depth, the briskness, the sharp attack and the clarity. The never-ending fascination given by the human body and the enlarging of frontiers led Balanchine continually to more polish of dance technique. His ballets are milestones to this day, and set standards both in artistic ideals as also in the technique of dance. For ballet director Martin Schläpfer his works are a basic component of the repertoire which one must to this day cultivate, not merely with regard to ballet history, but also as a schooling for the company, as (thus Schläpfer) "a good company needs the ballets of Balanchine, an excellent dancer needs Balanchine".
***
CONCERTO BAROCCO
George Balanchine © The George Balanchine Trust
MUSIC Concerto for two violins and orchestra in D minor, BWV1043 by Johann Sebastian Bach
Choreographie
George Balanchine
Musikalische Leitung
Christoph Altstaedt
Licht
Thomas Diek
Einstudierung
Patricia Neary
Solo-Violinen
Franziska Früh
,
Emilian Piedicuta
Soli
Claudine Schoch
,
Louisa Rachedi
,
Marcos Menha
Tänzerinnen
Doris Becker
,
Wun Sze Chan
,
Cristina Garcia Fonseca
,
Christine Jaroszewski
,
Nicole Morel
,
Virginia Segarra Vidal
,
Anna Tsybina
,
Irene Vaqueiro
Orchester
Düsseldorfer Symphoniker
Kleines Requiem
Hans van Manen
In their clear aesthetic positioning, their characteristic gestures, in forms that structure the available space and in their clearly defined viewpoint the Dutchman's choreographies circle round one theme: the relationships of people towards each other – man to woman, woman to woman, man to man. And yet Hans van Manen's output is so inexhaustible that one continually stands amazed before each new work, seeking to understand this art and to solve the riddles of an extremely creative brain.
A further masterpiece by Hans van Manen enters the repertoire of Ballett am Rhein with the "Kleines Requiem" after the score of the same title by the Polish composer Henryk Mikolaj Gorecki, created in 1996 for Nederlands Dans Theater I, As if pacing out their life span, sometimes leisurely putting one foot before the other, sometimes running full of energy, the three female and four male dancers in Hans van Manen's choreography move across the stage, continually meeting in various gender pairings of man and woman and then losing each other again. The whole cosmos of human feelings and relationships is spread out before our eyes, before ending with an amorous pas-de-deux between two male dancers, around whom a single female dancer describes her lonely circles.
***
KLEINES REQUIEM
Hans van Manen
MUSIC Small Requiem for a polka op.66 by Henryk Mikołaj Górecki Choreography Hans van Manen
Choreographie
Hans van Manen
Musikalische Leitung
Christoph Altstaedt
Bühne und Kostüme
Keso Dekker
Licht
Joop Caboort
Einstudierung
Mea Venema
Tänzerinnen
Doris Becker
,
Christine Jaroszewski
,
Nicole Morel
Tänzer
Andriy Boyetskyy
,
Paul Calderone
,
Marcos Menha
,
Bogdan Nicula
Orchester
Düsseldorfer Symphoniker
Ungarische Tänze (Uraufführung)
Martin Schläpfer
They almost literally hurl themselves into this score, which immediately captivates us from the very first note, they seize on its lilt so that their joy in movement, the liberated strength of their abandoned dance seemingly seeks even to outleap it. Martin Schläpfer has them dance Csárdás and polka to Johannes Brahms, and then reverts to the lifts and turns and "battements" of the whole classical armoury, the dancers plunge with many a humorous wink and with virtuosity into all the classical ballet techniques, such as the first piece of the multiple bill, Balanchine's "Concerto Barocco", had only just previously been displaying to us in all its exquisitely refined artificiality. Martin Schläpfer has elements of folk dance and Modern Dance, everyday gestures and tiny anecdotal sketches take classical dance by the hand and lead it into wild, untamed beauty. "The Hungarian Dances are above all dances", comments Schläpfer on his work. "What could seem more to hand as simply to dance, to be free, to cast off chains, to display virtuosity and also to show what my wonderful dancers are capable of doing? I wanted something energetic, joyful, positive, extrovert".
After choreographer Marco Goecke regrettably had to break off his collaboration with Ballett am Rhein for health reasons, Martin Schläpfer decided at short notice to close his multiple bill b.13 instead with a choreography of his own, "Ungarische Tänze". The score he chose was a selection of those dance melodies after Hungarian folk music and gipsy culture, as famous as they are exhilarating and often a little melancholy, which Brahms translated appropriately into the genre of classical art. They were first published in two editions for piano duet in 1869 and 1880; orchestrations were prepared dance by dance by Brahms himself and above all by later generations of musicians. These partly take on a lush romantic tone exceeding the concept of Brahms himself, Antonín Dvořák, Albert Parlow, Martin Schmeling or Robert Schollum, or they hark back to the folklore roots of this music like the versions by Iván Fischer, which even ask for a Cimbalom.
***
WORLD PREMIÈRE
Martin Schläpfer
MUSIC
Hungarian Dances by Johannes Brahms
Choreographie
Martin Schläpfer
Musikalische Leitung
Christoph Altstaedt
Kostüme
Sabine Schnetz
Licht
Thomas Diek
Tänzerinnen
Sachika Abe
,
Ann-Kathrin Adam
,
Marlúcia do Amaral
,
Camille Andriot
,
Doris Becker
,
Wun Sze Chan
,
Mariana Dias
,
Yuko Kato
,
So-Yeon Kim
,
Anne Marchand
,
Nicole Morel
,
Carly Morgan
,
Louisa Rachedi
,
Virginia Segarra Vidal
,
Julie Thirault
Tänzer
Christian Bloßfeld
,
Andriy Boyetskyy
,
Jackson Carroll
,
Martin Chaix
,
Philip Handschin
,
Antoine Jully
,
Marquet K. Lee
,
Sonny Locsin
,
Marcos Menha
,
Bruno Narnhammer
,
Bogdan Nicula
,
Chidozie Nzerem
,
Sascha Pieper
,
Boris Randzio
,
Martin Schirbel
,
Alexandre Simões
,
Remus Sucheana
,
Pontus Sundset
Orchester
Düsseldorfer Symphoniker